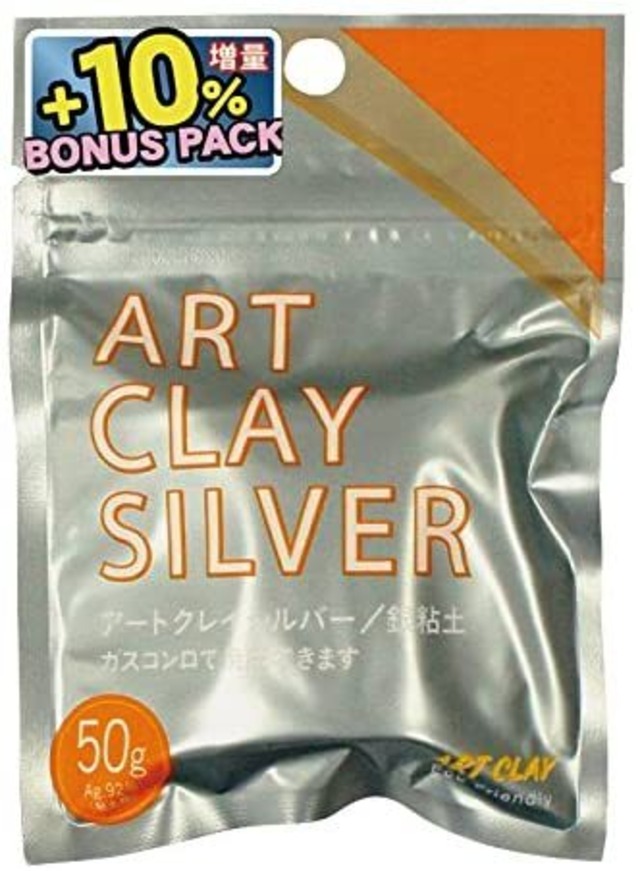 Art Clay Silver 50g + 10% increase
¥11,881($92.67) tax included
SOLD OUT
Payments will be paid in Japanese yen. The price in the foreign currency is a rough estimate.
Shipping fee is not included. More information.
Body size: Approximately 11.5 x 8.5 x 1 cm
Contents: Approximately 55g
Country of origin: (Art Clay Silver) Japan

Silver clay increase campaign. Most modeling work is centered around this type. You can perform modeling such as rolling and stretching with the same feeling as paper clay. New Art Clay Silver also has the features of slow dry, so the modeling time will be longer. The machinability of files such as files after drying has improved. The drying time using a dryer etc. is the same as before. A new material that achieves fine silver skin and beautiful luster. It has excellent stability during firing and can be fired from 650 ° C, so it is suitable for combination with other materials such as glass, ceramics, and metal fittings made of SV925. Since it can be fired on a household gas stove without using an electric furnace, you can easily enjoy making works.
Add to Like via app
Shipping method / fee

Payment method
¥11,881 ($92.67) tax included
SOLD OUT
Items in the same category